---
Nike's NYC Running Division is all about community. Ahead of the New York City Marathon, Nike tapped us to create a photo and video campaign that showsthe importance of training together, finding kinship through running, and the dynamic landscape of NYC's running terrain.

The shoot took place across three NYC running hubs, featuring real New York athletes from across the city doing what they do best: putting in the work to reach their goals.

The ask was hyper-real video capture on the fly with quick-paced New York running. We put our cinematographer on skates to capture our runners with dynamic, elevated skate-cam-style capture. The breadth of locations spanned both well-loved running paths and offbeat locations in the heart of the action.


In response to Nike's mission of authenticity and community, we partnered with portrait photographer Yael Malka, whose thoughtful framing, warm tone and genuine lens tone brought a unique POV to an athletic apparel campaign.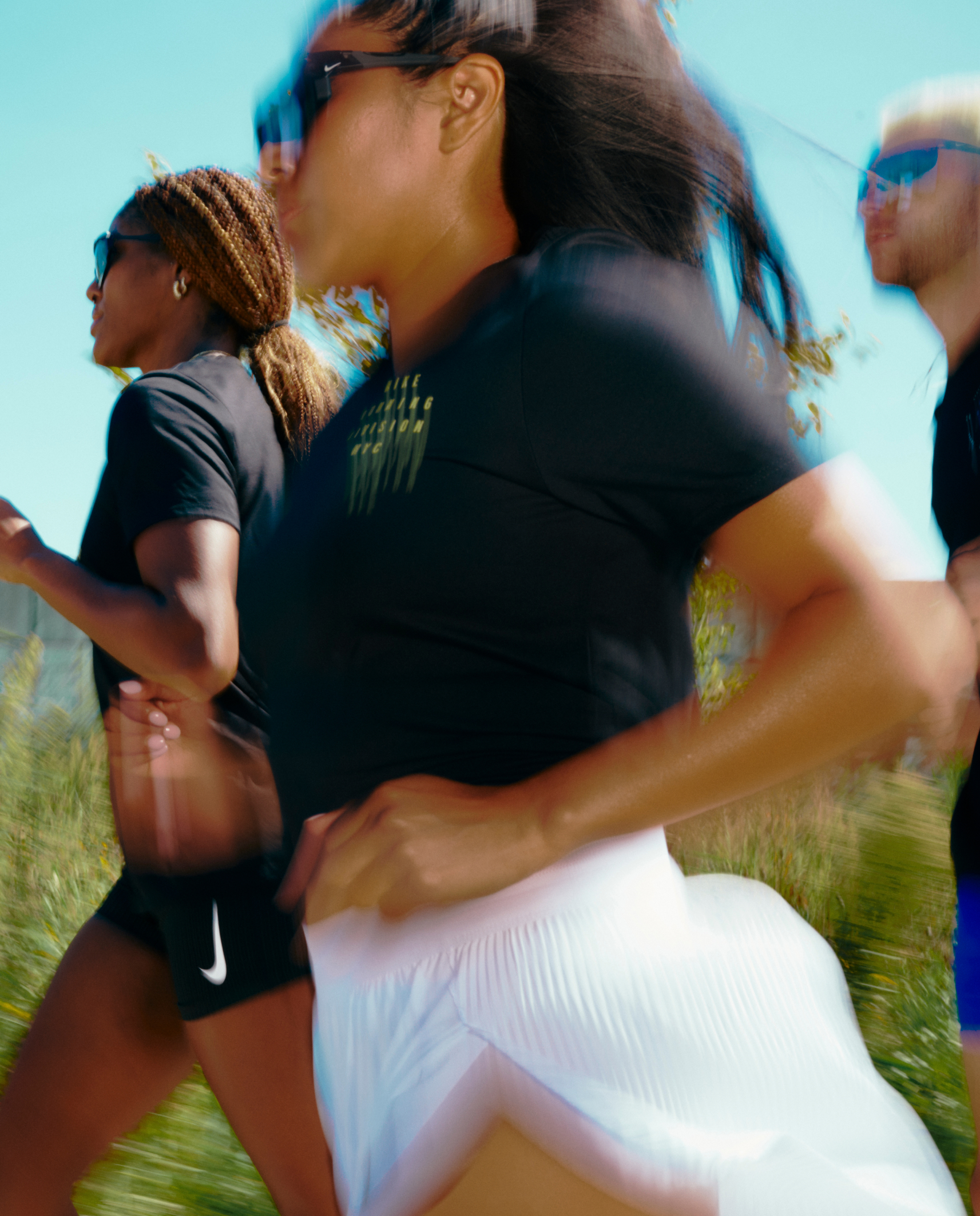 FEATURING

Kathy Hutson
Valerie Vele
Andrew "Wes" Sutandar
Carter Babcock
Nickel Anae

NIKE

EAST BRAND MARKETING MANAGER, SPORTS PERFORMANCE
Caedryn Schrunk

BRAND MARKETING, RUNNING NYC
Christian Hendry



PRODUCTION COMPANY
Grand Crew

EXECUTIVE PRODUCER
Ian Kaplan

ECD + DIRECTOR
Geoff Sean Levy

PHOTOGRAPHER
Yael Malka

DP
Mike Torres

PRODUCER
Dana Jensen

PRODUCTION MANAGER
Lucy Rennick

CREATIVE ASSISTANT
Bella Savignano

STUDIO ASSISTANT
Mariana Urrego


WARDROBE STYLIST
Jesse James

GROOMER
Caroline Baribeau

LOCATION SCOUT + RUNNING COACH
Francisco Balagtas

LOCATION MANAGER
Katie Corry

1ST PHOTO ASST
Taylor Schantz

2ND PHOTO ASST
Madeline Dalla

DIGI TECH
Jarrod Turner

1ST AC
Isabel Padilla

BIKE OPERATOR
Julio Zenteno

PRODUCTION ASSISTANTS
Darrien Hess
Divaahd Lucas
Kahdeem Prosper Jefferson
Tommy Krause
Vaughn Cummings
Laine Elliot

POST
Bodega Boys

EDITOR
Mike Torres

COLORIST
Edwin Omar Rodriguez

ANIMATION
Anthony Esquivel

FEATURING:

Kathy Hutson
Valerie Vele
Andrew "Wes" Sutandar
Carter Babcock
Nickel Anae

NIKE:

East Brand Marketing Manager, Sport performance: Caedryn Schrunk
Brand Marketing, Running NYC: Christian Hendry

PRODUCTION COMPANY: Grand Crew

Executive Producer: Ian Kaplan
Executive Creative Director: Geoff Sean Levy
Photographer: Yael Malka
DP: Mike Torres

Producer: Dana Jensen
Production Manager: Lucy Rennick
Creative Assistant: Bella Savignano
Studio Assistant: Mariana Urrego

Wardrobe Stylist: Jesse James
Groomer: Caroline Baribeau

Location Scout + Running Coach: Francisco Balagtas
Location Manager: Katie Corry

1st Photo Asst: Taylor Schantz
2nd Photo Asst: Madeline Dalla
Digi Tech: Jarrod Turner
1st AC: Isabel Padilla

Bike Operator: Julio Zenteno

Production Assitants: Darrien Hess, Divaahd Lucas, Kahdeem Prosper Jefferson, Tommy Krause, Vaughn Cummings, Laine Elliot


POST:
Bodega Boys

Editor : Mike Torres
Colorist: Edwin Omar Rodriguez
Animation: Anthony Esquivel