---
There's no one-size-fits-all method to running a small business, especially when the work can range from crafting hundreds of chicken biscuits per day to offering a bespoke salon experience. For Square's launch of their Banking platform, Grand Crew was tapped to highlight the lived experiences of business owners, merging documentary storytelling with authentic examples of Square's real-life advantages.

Natanya Montgomery's 'Naza Beauty' is a business by and for Black women. She wears many hats: creative director, CFO, bench brusher and vibe setter. Across the country, Melvin 'Boots' Johnson starts his days at the crack of dawn to make biscuit sandwiches that demand lines around his Harlem corner.

Over the weeks leading up to the shoot, Grand Crew interviewed Montgomery and Johnson extensively, to be sure their voices became represented exactly as authentically as possible. This process unearthed many nuances - from Boots's packed-to-the-brim Smart Car to Montgomery's daily stretch routine with her stylists - and gave us an opportunity to discover where Square's product became essential to their business, from Naza's point-of-sale needs at the salon, to Boots' cash flow management.

Grand Crew honed the creative in lock-step with Square's internal team, inclusive of script workshopping, casting, and the final edit. All of this to give an honest portrayal of what it's like to live the joyful craze of running a small business, and how Square folds seamlessly into the mix.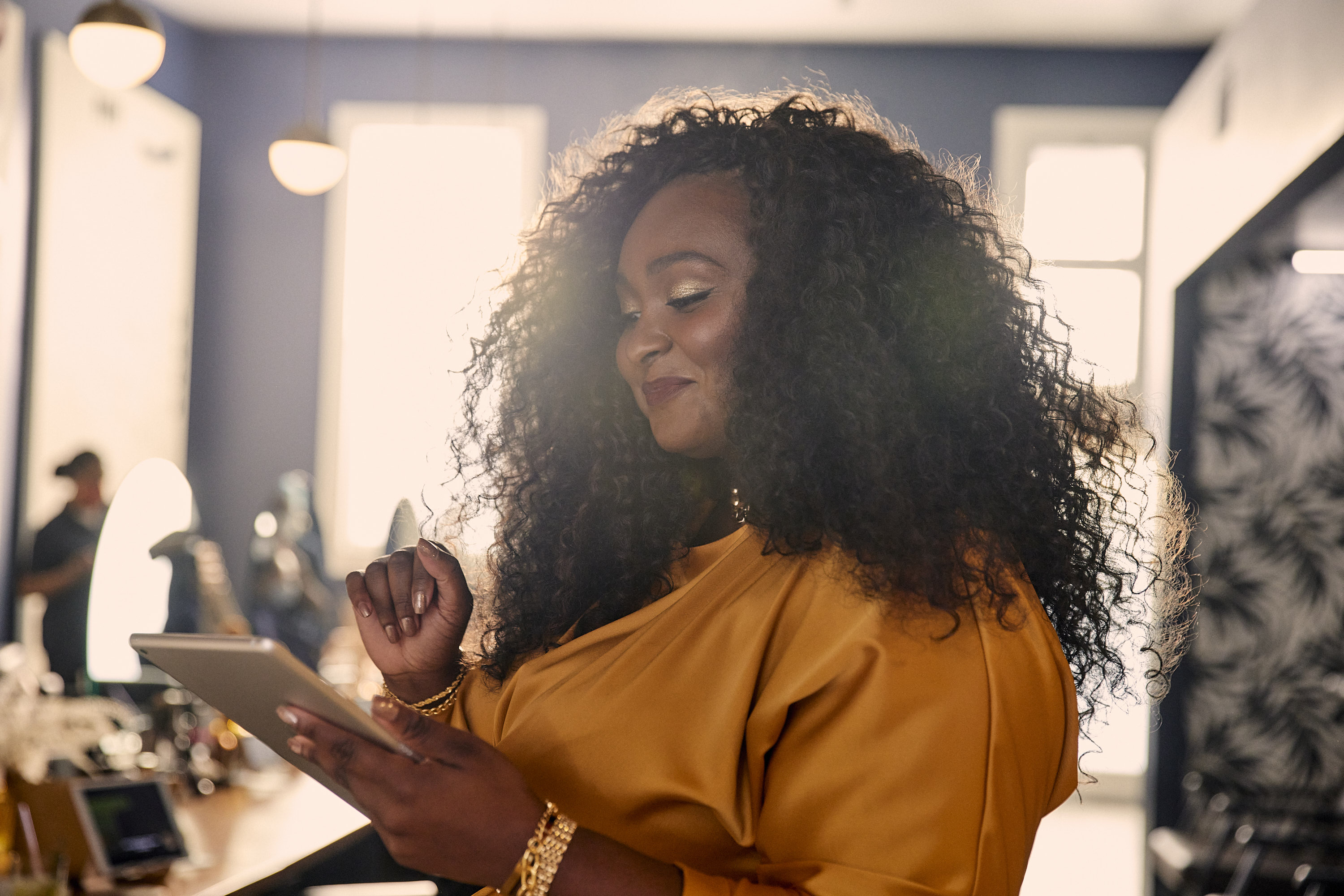 GRAND CREW

DIRECTOR / PHOTOGRAPHER
Geoff Sean Levy

EXECUTIVE PRODUCER
Ian Kaplan

PRODUCER
Kaitlin Del Campo

DP
Zoë Simone-Yi

PRODUCTION MANAGER
Kimmy d'Ancona

ASSISTANT PRODUCER
Scarlett Angelo

1ST AC
Konstantin Lyubimov

OFFICE PA
Isabella Pinheiro

STORY EDITOR
Blake Engel

TREATMENT ASSISTANT
Byu Fujiki

NY UNIT

1ST AD
Rodney Byerson

2ND AD
Shawn McLaughlin

2ND AC
Eureka Yu

CAMERA PA
Dylanne Hernandez

STEADICAM
Franz Brun

DIGITECH
Christian Delfino

GAFFER
Ariel Nehorayoff

KEY GRIP
Matt Foundollis

SWING
Akil Jones

SOUND MIXER
Carlton Lester

LOCATION MANAGER
John Perez

PROPS
Beau Tepper

PROPS ASSISTANT
Brad Bailey

STYLING
Milton Dixon

HAIR / MAKE-UP
Maya Calhoun

CCO
Reggie Thomas

MOHO DRIVER
Sean Cummisky

PA
Christina Krioutchkova

PA
Tarik Hudson

PA
Alan Fernandez

PA
Rasean Romero
SF UNIT

1ST AD
Hilton Day

2ND AD
Dominic Martin

2ND AC
Justin Vong

STEADICAM
Drew Dorsey

DIGITECH
Julian Edward

GAFFER
Mina Stollery

KEY GRIP
Juan Ruiz

SEING
Hazim Muftic

LOCATION MANAGER
Matt Reoch

PROPS
Leila Nichols

PROPS ASST
Kate McGinty

STYLING
Inna Niolskaya

HAIR / MAKE-UP
Sarah Coy

CCO
Anthony Francis

NURSE
Mark Kaplan

MOHO DRIVER
Joh Carrarini

PA
Katie Fraga

PA
Aneesah Dryver

PA
Amaru Davis

PA
Andrew Zverina
TALENT

Natanya Montgomery
Melvin "Boots" Johnson Jr.


EDITORIAL

EDITOR
Sophie Lou, Forager

ASST EDITOR
Joe Doyle

SOUND MIX
Bobb Barito

COLORIST
Josh Bohoskey, The Mill

MUSIC COMPOSER
Xander Rodzinski


SQUARE

CREATIVE DIRECTOR
Madelyn Lee

CREATIVE DIRECTOR
Vickie Chang

CREATIVE PRODUCER
Tor Smith

BRAND STRATEGIST
Evyn Staley
GRAND CREW

DIRECTOR / PHOTOGRAPHER
Geoff Sean Levy

EXECUTIVE PRODUCER
Ian Kaplan

PRODUCER
Kaitlin Del Campo

DP
Zoë Simone-Yi

PRODUCTION MANAGER
Kimmy d'Ancona

ASSISTANT PRODUCER
Scarlett Angelo

1ST AC
Konstantin Lyubimov

OFFICE PA
Isabella Pinheiro

STORY EDITOR
Blake Engel

TREATMENT ASSISTANT
Byu Fujiki



NY UNIT

1ST AD
Rodney Byerson

2ND AD
Shawn McLaughlin

2ND AC
Eureka Yu

CAMERA PA
Dylanne Hernandez

STEADICAM
Franz Brun

DIGITECH
Christian Delfino

GAFFER
Ariel Nehorayoff

KEY GRIP
Matt Foundollis

SWING
Akil Jones

SOUND MIXER
Carlton Lester

LOCATION MANAGER
John Perez

PROPS
Beau Tepper

PROPS ASSISTANT
Brad Bailey

STYLING
Milton Dixon

HAIR / MAKE-UP
Maya Calhoun

CCO
Reggie Thomas

MOHO DRIVER
Sean Cummisky

PA
Christina Krioutchkova

PA
Tarik Hudson

PA
Alan Fernandez

PA
Rasean Romero
SF UNIT

1ST AD
Hilton Day

2ND AD
Dominic Martin

2ND AC
Justin Vong

STEADICAM
Drew Dorsey

DIGITECH
Julian Edward

GAFFER
Mina Stollery

KEY GRIP
Juan Ruiz

SEING
Hazim Muftic

LOCATION MANAGER
Matt Reoch

PROPS
Leila Nichols

PROPS ASST
Kate McGinty

STYLING
Inna Niolskaya

HAIR / MAKE-UP
Sarah Coy

CCO
Anthony Francis

NURSE
Mark Kaplan

MOHO DRIVER
Joh Carrarini

PA
Katie Fraga

PA
Aneesah Dryver

PA
Amaru Davis

PA
Andrew Zverina

TALENT

Natanya Montgomery
Melvin "Boots" Johnson Jr.


EDITORIAL

EDITOR
Sophie Lou, Forager

ASST EDITOR
Joe Doyle

SOUND MIX
Bobb Barito

COLORIST
Josh Bohoskey, The Mill

MUSIC COMPOSER
Xander Rodzinski


SQUARE

CREATIVE DIRECTOR
Madelyn Lee

CREATIVE DIRECTOR
Vickie Chang

CREATIVE PRODUCER
Tor Smith

BRAND STRATEGIST
Evyn Staley